Unter dem Motto "In Tomorrow We Believe" präsentiert INDIANER INUIT: DAS NORDAMERIKA FILMFESTIVAL
[6] in seinem Rahmenprogramm am Montag, 18. Januar 2016 um 19:00 den kanadischen Dokumentarfilm UNAKULUK sowie das Spielfilm-Drama LE DEP.
d.a.i. Karlstraße 3, 72072 Tübingen, Tel: 07071-795260
Das Festival, welches einzigartig in Europa ist und vom 21.-24. Januar im Stuttgarter Treffpunkt Rotebühlplatz (vhs Stuttgart) stattfindet, freut sich auf die Kooperation mit dem d.a.i. Tübingen. Die beiden Inuit Throat-Sängerinnen Jenna Joyce Broomfield und Malaya Bishop (SILA SINGERS) sind als Gäste angefragt.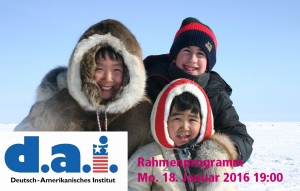 Unakuluk (Dear Little One)
Dokumentarfilm Kanada 2005, 47 min.
Regie: Marie-Hélène Cousineau, Mary Kunuk
Inuktitut mit englischen Untertiteln
Ein Kind von Verwandten, Freunden oder Bekannten zu adoptieren ist bei den Inuit nichts Außergewöhnliches. Tatsächlich ist die Adoption fester Bestandteil der Kultur, wobei die Familien ganz unterschiedlich damit umgehen. Der Film gibt Einblicke in die kulturelle Praxis der Adoption und wie sie sich an die veränderten Lebensrealitäten im hohen Norden anpasst.
Adopting a child from a relative, a friend, somebody you know, is very common in Inuit culture. In fact, adoption is part of the culture, with every family experiencing it in one way or another. As individuals talk about their own experiences with adoption, the film allows us to see how this traditional custom changes with the reality of contemporary life in the North.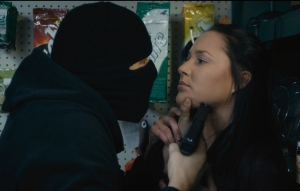 Le Dep
Drama/Spielfilm Kanada 2015, 75 min.
Regie: Sonia Bonspille Boileau
Darsteller/innen: Eve Ringuette, Yan England, Charles Bucell-Robertson, Marco Collin, 75 min
Französisch mit englischen Untertiteln
Das Psycho-Drama Le Dep handelt von Lydia, einer jungen Innu-Frau, die im Geschäft ihres Vaters in einer kleinen First Nations Community im ländlichen Quebec arbeitet. Als sie eines Abends den Laden schließt, dringt ein maskierter Räuber ein, der sie mit einer Waffe bedroht. Diese traumatische Erfahrung wird noch beunruhigender, als Lydia den Angreifer erkennt. Sie steht nun vor einer Entscheidung, die den weiteren Verlauf ihres Lebens für immer verändern wird.
Le Dep is a psychological drama about Lydia, a young Innu woman who works at her father's convenience store in a small First Nations community in rural Quebec. One night, as she prepares to close up shop, a masked robber enters the store and holds her at gunpoint. This traumatic experience becomes even more troubling when Lydia recognizes her assailant. Before long, she will have to make a decision that will forever change the course of her life.